Marie Pogue mariepogue@gmail.com
To Whom It May Concern:
I am writing to recommend Steven Colding as an excellent chess instructor for children ages 6-17. I have known Steve for 22 years and I have no doubt that he knows the game of chess and is well versed in various teaching methods and strategies.
I met Steve at a chess tournament in Manhattan, NY when my son was 10 years old. Prior to meeting Steve, my son had expressed interest in having someone coach him. I observed Steve coaching children from a New York City sc
hool, who were competing in a tournament, and was impressed with his calm and caring demeanor. Additionally the team that he coached that day won the tournament. Shortly after that time I hired him to coach my son.
While coaching my son, Steve was patient, kind, enthusiastic and inspiring. He taught my son how to use strategic and analytical thinking in the game and more importantly how to have fun. He exposed him to different levels of tournament play, which built his confidence and determination. Also I found that chess improved my son's mathematical abilities. And he continued to excel in math even after discontinuing tournament chess.
Steve is an excellent coach and is committed to providing a high level of instruction and inspiration for every child.
"I'm not sure if Biruk found chess or chess found Biruk. My daughter first started playing in Kindergarten as part of PS/MS 282's in-class chess program and by first grade her teacher Mr. Colding told her to join the team. It's been an amazing journey ever since. Not only has chess sharpened her strategic thinking, but it has taught her practice, persistence and patience pay off. Through a lot of hard work and determination she and her teammates won second place at this year's National Chess Tournament in Dallas.
 The most important part of the program, though, is Biruk loves it. Mr. Colding, Ms. Davis, and Mr. Jeffrey have been amazing mentors – patient and loving, but tough, too. And though each player faces their rounds alone, they draw strength from the team, especially during tournaments.  I've been blown away by this program and I'm thankful every day that it's something that PS/MS 282 cherishes, too." – Agnes
"I first found out about the school chess program near the end of Maya's kindergarten year.  When I picked her up one day, she saw a teacher in the main hall, and they both burst out singing a song about chess.  Maya explained that this was Mr. C, a chess teacher who came to class sometimes.  The following year Maya asked to try out for the chess team with her best friend.  Since she was already signed up for a dance class (hip hop) that day, she had to miss the tryouts.  When her friend got accepted on the team, Maya again insisted she wanted to join her. She wouldn't take no for an answer, so I gave in.  I spoke with Mr. C, and he said he would give her a tryout. 
During pickup time, on the day Maya's tryout was scheduled, I bumped into Mr. C.  He told me I'm sorry your daughter didn't pass the tryout. I was sad for her, but was glad that she would be going back to hip hop!  When Maya came out with her classmates and approached me, before I gave her the news, Mr. C asked is this your daughter?  When I nodded yes, he apologized and said he had mistakenly tested someone else instead, but he would love to test Maya the next day… and the rest is history.  A week later, at her first tournament ever at 282, she won a trophy, and since that day she has been on a mission to get more!
Slowly but surely Maya began to choose chess practice and tournaments over other after school and weekend activities (hip hop was first to go 
 ). She adores Mr. C dearly and would do anything to help her team win.  With the help of the incredible Mr. C, she has learned important life lessons, like how to overcome failures, and how to be resourceful and determined in difficult situations.  Chess does wonders for analytic skills, critical thinking, and kids' confidence in using their minds.  The chess team has definitely played an important role in shaping her to be a better person, and I'm very thankful for that!
And importantly, it is not just about chess, it is about a great big family.  I see our chess team as a wonderful community, brought together for all the right reasons, in support of our children. As I see it, for Maya, going to a tournament is like a long playdate with chess interruptions (nothing beats that!), and sometimes capped off by a trophy.  During tournaments, she loves to have fun, she always wants to hang out with friends, and during travel tournaments, she is always the last one to leave the team room. The chess family is always so supportive it really makes all the difference…for us parents too!!!. I'm so glad Maya insisted :-)…" – Neot
"Gregory (aka J. Conner) Is beyond thrilled to be on the chess team! He started playing chess with his younger brother Colin in kindergarten after watching a movie in which the opening sequence to the film showed two characters playing chess. Naturally, he was curious about how the game was played, so he asked me to teach him. However, not knowing that much about the game myself, like most parents who are tech savvy, I decided to google it!
 
Since then, as a Royal Panther he's competed and won top trophies at the local and national level. He is passionate about chess and plays at the highest possible level every time he competes. Chess has been a major catalyst that has enhanced Gregory's emotional, social and psychological growth and development! Most notable to me are the valuable life lessons that have carried over into other areas of his life. He learned to be tactical and strategic, to never give up, to always put forth his best effort, and whatever the difficulty the best move is always on the board waiting to be discovered!   
 
Needless to say, Gregory has earned many achievements playing competitive chess, but if you were to ask him what he enjoyed the most, besides WINNING, he would tell you it's his teammates and the wonderful friends he's made along the way!" – J. Gregory, Sr.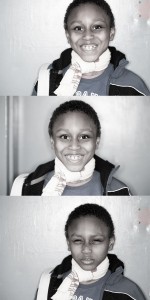 "Robert has been on the Royal Panthers Chess Team at PS 282 for 3 years. Every moment that he's been on the team has been memorable and rewarding. Every tournament he competed in has taught him valuable lessons in chess and in life.
 As a Royal Panther, he's learned to work with his peers as a team member and has developed many long-lasting friendships. He's attained his personal goals to increase his chess skill and ranking every year. He's learned never to give up and to be persistent and vigilant in his goals. He's learned the meaning of hard-work and dedication. He's learned that you may not always walk away a winner in every tournament, but under the direction of the amazing chess coaches and their guidance, he's learned how to put forth his best effort.
 His participation on the championship chess team at PS/MS 282 has enabled him to be accepted to one of the top middle schools in the country because they realize that children who play chess possess important qualities that they are looking for, patience, tenacity, and the willingness to learn hard, work hard and play hard in every endeavor."  – Roben
"Masai was introduced to chess by his dad, who taught him and his two older brothers how to play almost as soon as they could walk and talk. He played his very first tournament at PS282 and WON! That win made him want to join the chess team to learn how to play better so that he could beat his dad and win more trophies. Mr. Colding promised Masai that if he practiced and learned the fundamentals, he would do very well in chess. Thanks to the 282 chess program Masai accomplished all of his goals: he beats his dad at chess on a regular basis and he's won top trophies both locally and on a national level. The 282 chess program has had an amazing and positive impact on Masai. It has given him confidence, problem-solving skills, and friendships that he'll have for the rest of his life. When applying to middle schools within our district, it was a challenge to find a school with high academic standards that also had a strong chess team. Ultimately Masai was accepted into his top choice, in some part, because they were eager to have a player with his skills become part of their growing chess program." – Kimtoya
From a former student:
From:

 Christopher Yao 


To:

 cldng1@yahoo.com 


Sent:

 Friday, October 23, 2015 9:38 AM


Subject:

 Thank You; Re: Christopher Yao

Dear Mr. Colding,
I hope this email finds you well. How are you? I trust you are doing well. I hope you still remember me!
I wanted to write to you today to thank you for coaching me in chess for many years. In high school, I was able to participate on my high school's chess team and play on the top boards for all four years.
Now that I am in my second year of college now, I still do enjoy playing chess with friends. Chess has been a very interesting and fun game to play on many occasions with so many different people. I even picked up Chinese chess very easily!
I want to express my greatest appreciation to you for your patience, support, and teaching in my younger years. Weather I won or loss, my rating went up or down, chess helped me develop critical decision making skills and taught me to be systematic, thoughtful, and organized in my approach to life.
Thank you, again.
Enjoy the fall foliage! Have a wonderful upcoming holiday season!
Your student,
Christopher