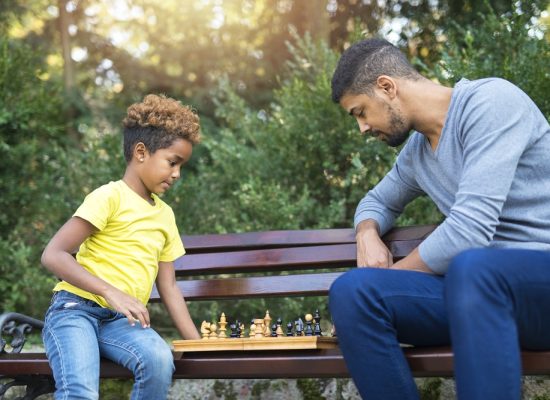 This article is the second in a series by National Master Stephen Colding that shows parents how to teach their toddlers to play chess. In this article how to set up a learning environment is explained. Part 1 of this series, How to teach your toddler to play chess, can be seen here.
If you would like to know more about Stephen Colding you might want to visit his website here.
The right setting is key!
As a parent-teacher, it is imperative that you get the learning environment right. It is important that you pick a space in which both your toddler and you are very comfortable. You should pick a space that you both like and make it your special learning place. It should be large enough to accommodate your child, the chess equipment, the learning tools, and you, but not too large that you and your child are separated. 
What you Need
Equipment
Having a chess set is of course a must. The best chess set for this would be a standard Staunton tournament set. If you cannot find one on your own then you can go to chess for children.com here to pick one up. You should be able to pick one up for about $20.
Time
You must make time for the activity. It should be the same time all the time because children love consistency. The more routine you make it the more the child will enjoy it.
Make sure you both are ready to learn
Evaluated your child, making sure that there were no emotional breakdowns, or acting out before the lesson. Don't teach if your child is too tired or irritable or sick. The same goes for you too. If you are too tired or not feeling well explain that to your toddler they will understand and feel closer to you because you shared your true feelings.
Fun!
It is really important that you have fun. Regard this not as a chore but as an opportunity to instill the love of learning in your child. Don't be focused on results, don't insult, or be sarcastic. Be sincerely concerned and loving in your approach. You cannot force a child to learn so don't badger. if at first, they don't get it then try a different approach with laughter patience, and understanding.  If you do this then you and your child will have a glorious time together learning anything.
In Summery on Setting up a Learning Environment
The five steps in having the right setting for learning:
Pick a special place
Get a chess set
Make Time
Make sure you're both ready
Have Fun!
If you follow these steps I guarantee that your child and you will have a fantastic time!
Next Lesson: How to Teach your Toddler to Play Chess – Part 3 – Setting Goals